Do you have piles of unread and unwanted books lying around your home? If so, we have some good news for you: there are all sorts of ways to convert them into cash.
In this blog, we take a look at some of these, offering you the pros and cons of each solution.
Sell Books on Amazon
Amazon got its start as a bookseller – and it's still going strong today with more than $1.4 trillion in sales. What's more, it lets sellers like you flog books.
Pros
Massive target market: Amazon is usually the first place people go when they're looking for books online, particularly rare or exotic prints.
International sale: You can flog your books overseas – whenever your audience happens to be.
No marketing costs: Amazon does all the marketing for you.
Cons
Lots of competition: There may be many other sellers all trying to flog similar books on the platform.
Selling fees: Amazon has to make money somehow, so it charges merchants selling fees for hosting products on its platforms.
Set up costs: Amazon isn't like eBay. You have to register as a verified seller and follow a large number of rules.
Sell Your Books on eBay
eBay is the world's largest auction site, generating $10.8 billion in 2019. It offers many of the same benefits as Amazon for selling books, but the setup is slightly different.
Pros
Large market: People hop onto eBay instinctively when looking for a bargain. You can tap into this demand and sell your book fast.
Sell any book: On eBay, there will almost always be somebody who wants what you're selling.
Cons
Seller fees: Like Amazon, eBay has to charge a fee to keep its platform running. In some cases, these fees will exceed the value of your books, making selling via the platform pointless.
Lots of competition: There are millions of sellers on eBay, pushing down the price you can reasonably charge.
Difficult to sell multiple books: You have to keep careful tabs on your inventory. If you list a book as being in stock and it isn't, customers may leave angry reviews, downgrading your rating.
Sell via a Platform like Zapper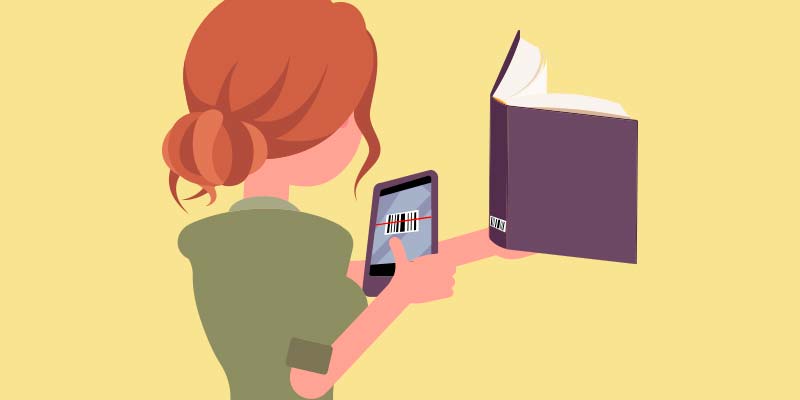 Companies like Zapper allow you to sell books in bulk. By either entering barcodes on a website or using an app to scan barcodes, Zapper can give you instant cash offers on all of your books. If you're happy with your offers, you send the books for free and once received, Zapper send you the cash.
Pros
Instant cash offers with no waiting for buyers: Zapper tells you what all of your books are worth instantly, so you don't have to bother with listing products individually and waiting for buyers to give you offers.
Postage is completely free: on some platforms like eBay you might have to cover the cost of posting the book to complete the transaction. Zapper gives you free postage labels to stick on your box of books.
Get rid of your books in one go: no waiting for each book to sell after. Receive offers for all your books, and send them for free in one go.
Recycle as you go: if one of your books isn't worth anything, Zapper will still let you send it for recycling purposes. Earn money whilst recycling.
Cons
Your books need to have a barcode: if your books don't have a barcode, the Zapper valuation engine won't be able to recognise your book to give you an offer.
You may not be able to sell rare antique books: if your rare antique books don't have a barcode on them, Zapper won't be able to give you an offer.
Sell on Facebook
Facebook also offers selling opportunities, either through groups or on its marketplace. With over 2 billion users worldwide, it's fair to say Facebook has an audience. However, unlike platforms like Amazon, people don't log into Facebook purely for shopping but it does have that functionality.
Pros
Real-time alerts for offers: Facebook will send notifications to your device if anyone is interested in your products.
Converse with buyers: You can avoid hiccups and confusion by speaking with buyers directly and answering their questions.
Easy to list: Upload a photo and description of the product you want to sell. There's no need to set up a separate account or apply to Facebook for permission to sell on the platform.
Connect with local buyers: Often, Facebook buyers will live close by, allowing you to sell quickly.
Cons
Buyers can retract offers: Unlike on eBay, buyers can retract offers, cancelling the sale, even after promising money.
Time-consuming: Responding to customer questions about your books can take up your precious time. Many won't buy from you.
Risk of fraudulent offers: Sometimes, Facebook users will troll you with fraudulent offers or place an offer and haggle in person.
Sell on Abe Books.co.uk
AbeBooks is an Amazon subsidiary that acts as a broker for books and a range of collectable products. Like Amazon, Abe Books is more suited to people who are wanting to sell books frequently, rather than anyone who just wants to get rid of some of their book collection.

Pros
Item customisation: You can list your books however you like with photos, descriptions or just a simple ISBN.
Free inventory software: If you have a lot of books to sell, AbeBooks provides integrated software to make managing your inventory easier.
International sales: AbeBooks lets you grab the attention of international buyers by adding your listings to six international markets automatically.
Cons
Not great for small sales: AbeBooks fee structure means you'll pay much more for making sales on the platform if you're a small-scale seller.
Lots of fees: You'll have to pay shipping, credit card payments, commission and a monthly subscription fee.
No cross-platform promotion: Amazon might own AbeBooks, but it won't advertise sales on its main site.
Sell your books at a car boot sale
What about a car boot sale where you sell your books from the back of your vehicle? It's one of the more old school ways of selling things that is not so prominent anymore and can take up a lot of time.
Pros
Lots of interested customers: People who attend car boot sales are often looking for a bargain.
Sell other goods at the same time: You can flog whatever you like at a car boot sale and make a lot of money from it.
Cons
Haggling: Buyers at car boot sales are usually looking for bargains. Expect them to try to negotiate down your book prices.
Travel costs: Getting to a car boot sale burns fuel, cutting into your margins for the day.
Time costs: You usually have to give up a morning at the weekend when you would rather be doing something else.
Sell your books to local bookshops
Selling your books to local bookshops is another option. But, like the rest, it comes with some negatives.
Pros
Sell your books quickly: You can see whether a local bookshop will buy your books off you quickly.
Avoid fees: Selling to a bookshop is a one-time transaction, so no fees.
Cons
Lower prices: On average Bookshops will offer a lower price than private buyers to preserve their margins.
May not accept your books: Most stores will only buy your books if they're new or relevant to their audience.
Donate them to charity shops
Finally, you can donate books to charity shops.

Pros
Charitable: Donating books to charity shops allows you to support a charitable cause.
Offload books quickly: Most charity shops will process your books quickly, taking them off your hands.
Plenty of options: There are probably many charity shops in your area, allowing you to choose a specific charity to support.
Cons
You won't earn anything: Charity shops won't usually pay you for books you donate. It's a gift.