A home library – it's exactly what it says on the tin. It's a room, spot, nook – whatever you want to call it – located somewhere in your home dedicated purely to books. Owning and reading a lot of literature has proven to develop literacy levels and reduce stress, but if you've noticed your book collection getting a bit out of hand lately, having them all in one place is key for a happy home. At Zapper, we think a home library is so much more than just a couple of bookcases – it's the one place you're guaranteed an escape from the hustle and bustle of life. Planning, building, and personalising your home library is going to be a big project, which is why we've got some tips for a fuss-free experience that won't break the bank.  
Step 1: Plan your home library
Take stock
Your first port of call is making an inventory of all the books you own. Not only will it inform you of how much space you'll actually need, it's a great way to declutter and start this project with a fresh mindset. It wouldn't come as a surprise if the majority of your books haven't even been read yet. More than a few of us are guilty of buying books and not reading them (there's even a Japanese term for it: Tsundoku). Taking stock will either reintroduce you to the ones you plan on getting to, or allow you to say goodbye once and for all.
Any book you decide not to include in your home library should be given a new lease of life by going somewhere new. At Zapper, we'll pay you for the privilege of sending in your old books or recycle them for you free of charge if they're not in a re-sellable condition.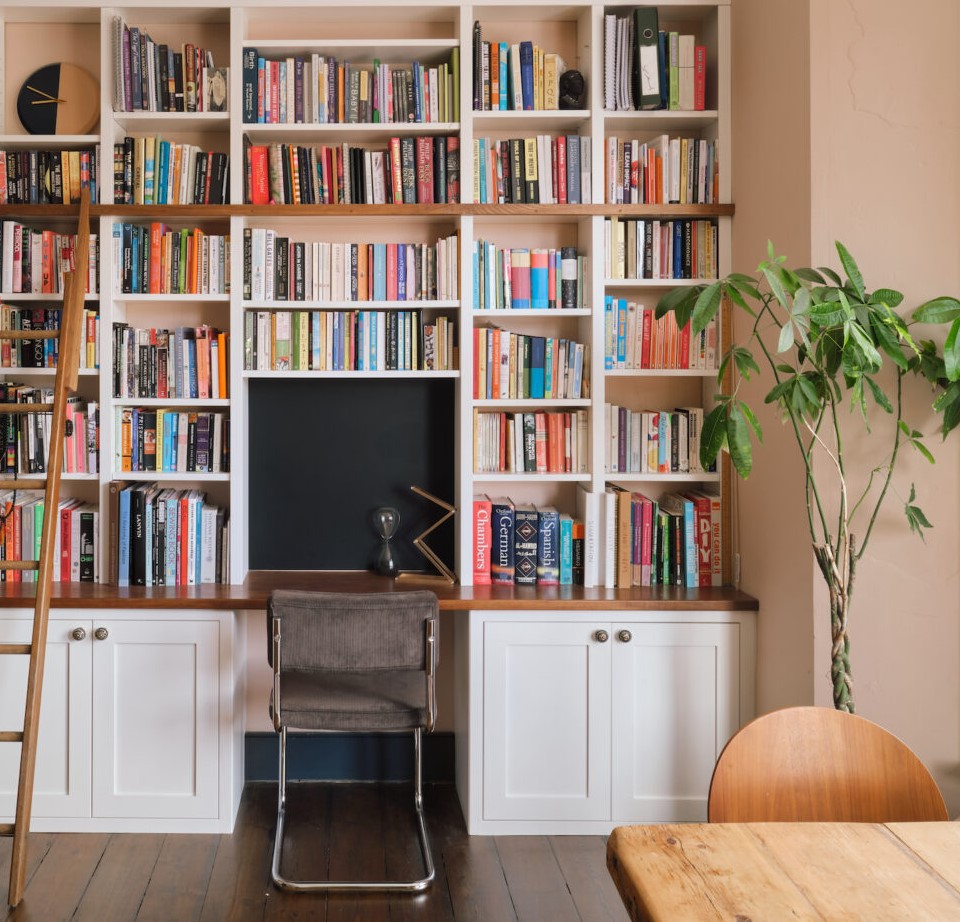 Choose a spot
Next up is finding the perfect location for your library. Now, you might not be able to dedicate an entire room to this venture, which is why it's much more common to utilise the space you've already got. Modify your home office, move some furniture around in your bedroom, or rejuvenate that unused corner in your living room. Take some measurements, consider the amount of natural light the room gets, and think up creative ways to implement shelving.
Time to shop
Floor-to-ceiling shelving, built-ins, or DIY bookcases? Now that you've prepared the stock and completed the measurements, it's time to get shopping. If you're on a budget, there are plenty of ways to acquire your units without having to shell out. Upcycle an old bookshelf with a fresh lick of paint, or scour eBay and Facebook Marketplace for some second-hand gems. If you've traded in your old books with Zapper, you'll at least have a little extra in your pocket to splurge.
Step 2: Build your home library
Tools at the ready
Whether you're a DIY-prodigy or you think a spirit level is something you use during a séance, it's time to get assembling. There's no harm in asking for help. In fact, it's better if you do: according to a 2021 survey by OnePoll, 46% of Brits have had to ask for professional intervention after a DIY-mishap! Futureproofing is important during the building stages as well. Are you guaranteed to still appreciate that permanent wall fixture in five years, or are you better off with something a bit more portable?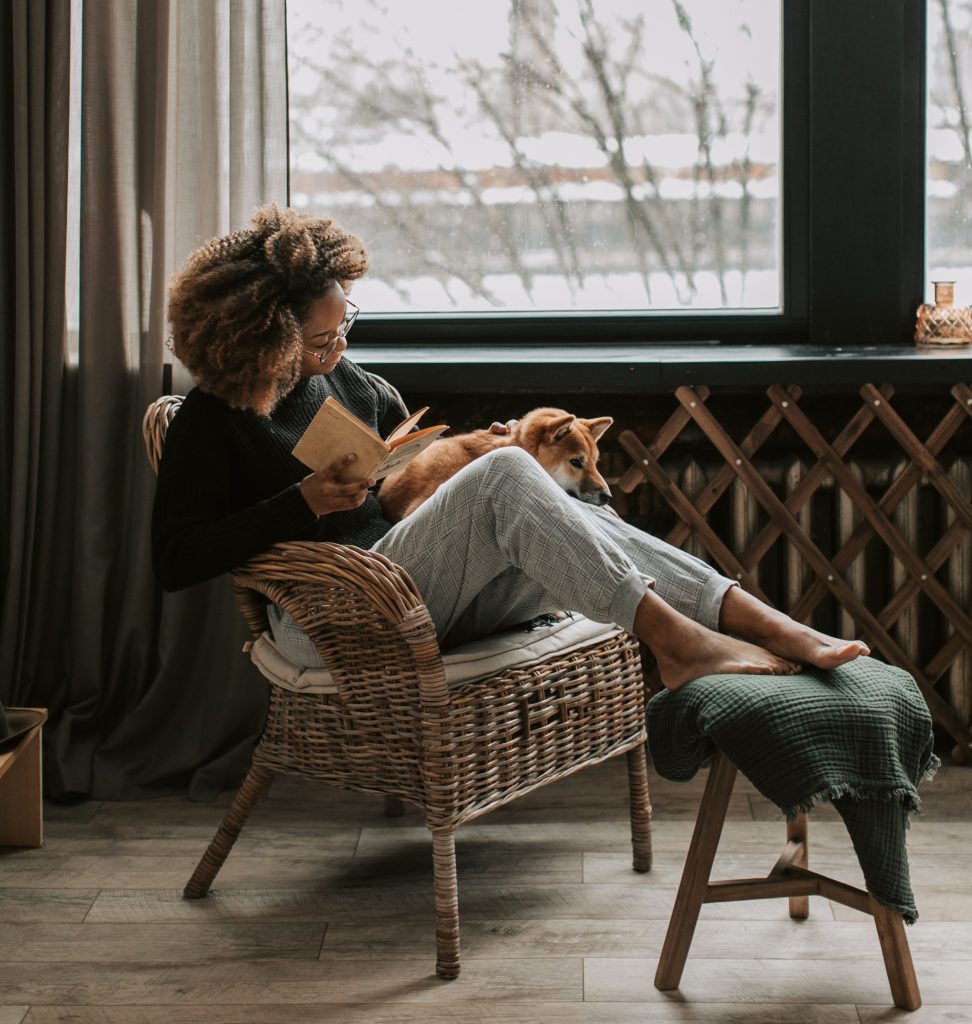 Set up a reading nook
Now you have your backdrop, it's time to make this the ultimate cosy hang-out spot. Comfortable seating is a must, whether it's a mountain of pillows or grand armchair. You'll definitely need a blanket on hand for those cooler days – and don't forget the lighting! In the planning stage you hopefully chose a spot that gets a good amount of natural light, but a sturdy reading lamp is enough to do the trick too, especially if you're prone to read before bed. Get the comfort and ambience just right, and you'll find yourself lost in whatever world you're in for hours.
Step 3: Personalise your home library
Organise your books
You've planned, you've built – your home library is almost complete, with one last thing to do – organising your books. There's no right or wrong way to do this, but here are some ideas to get you started.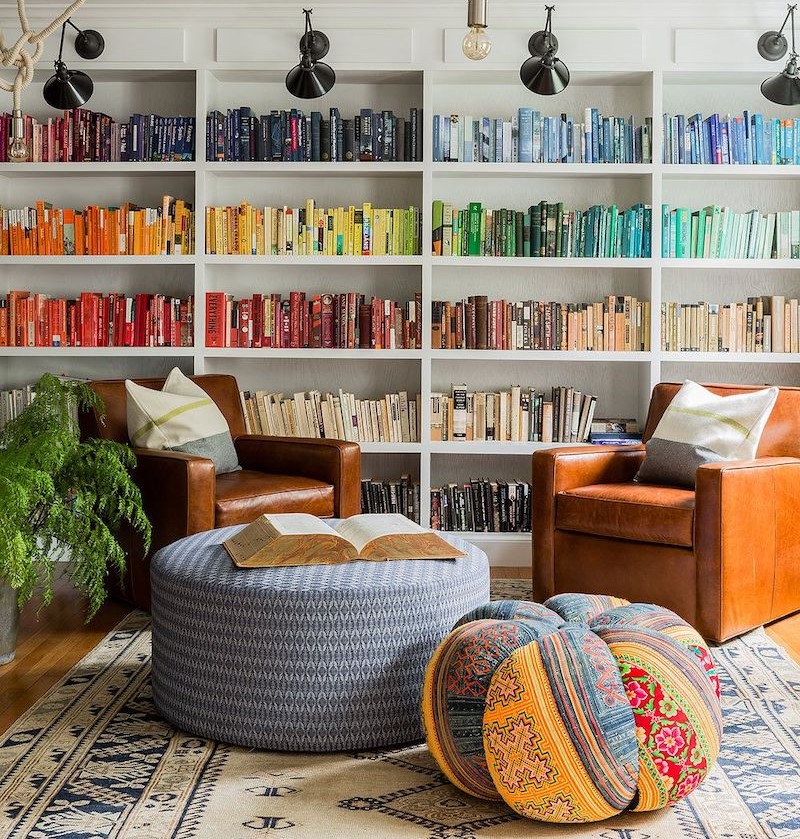 Arguably the classic and most common method. It really is as simple as going through each book and lining them up alphabetically. Great for organisational purposes – you'll be able to pick up the book you're thinking of in a pinch – but may not be as aesthetically pleasing as other ways.
In the mood for fantasy? Nonfiction? You know where to go. Organising by genre is great for readers whose moods dictate their reading habits, but, like the A-Z method, may not be as nice to look at.
The standout option in terms of aesthetic – rainbow-ify your bookcase for a total statement piece. This option is great for those who associate books with their covers, but you'll be paying a pretty penny organisation-wise. Books by the same author could be scattered all over the place, so take that into consideration.
This doesn't require much explanation. Sorting your books by whether they've been read or still need getting to can be great… or not, if you're guilty of Tsundoku!
Add the finishing touches
For that last dash of personality, why not add objects and décor to your shelves? They could be bookish items or any other type of embellishment: flowers, figurines, picture frames – you name it. A home library shouldn't remain stagnant. It should change with your reading tastes, new releases, and new favourites. It's a reflection of you. Get that right, and your home library is guaranteed to become your favourite part of the house.
Trade in your old books with Zapper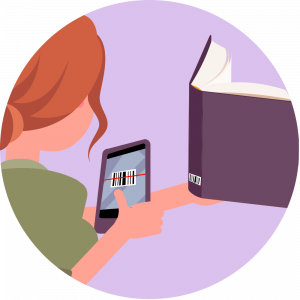 A home library doesn't need a million books in order to be effective. The phrase 'quality over quantity' definitely applies, and there are more than just a few reasons to start selling your unused books. Unlike other traders, Zapper doesn't turn away an item that doesn't have resale value. Instead, we'll recycle it for you free of charge, either by giving it to charity or repurposing it into something new. We want to give you the opportunity to make the planet a little greener, simply by getting rid of the items gathering dust around your home. So, if you're thinking of building a home library, allow Zapper to lend a hand.